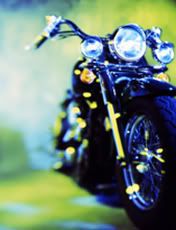 By John Fabry
The 10th anniversary of the Lone Star Motorcycle Rally in Galveston is coming up the first weekend in November. We at Bailey & Galyen would like to wish all of our motorcycle-riding friends and clients planning to attend the rally a happy and safe weekend. We would also like to offer some safety tips.
Experienced motorcycle riders make safety a priority because the consequences of a motorcycle wreck can be so severe. Government statistics show that 35 times more deaths per mile traveled occurred from motorcycle accidents than from car accidents in 2006. Avoid becoming the next motorcycle statistic by paying serious attention to your safety. Many motorcycle wrecks and collisions can be avoided by staying alert on the road and educating yourself about the safest way to ride.
Wear a helmet. Helmet use significantly reduces the incidence of head injuries in motorcycle accidents. According to the National Highway Traffic Safety Administration (NHTSA), 37 out of every 100 motorcyclists killed in a crash while not wearing a helmet would have survived if they had been wearing a helmet. And that doesn't include the reduction in nonfatal injuries for helmet users. Also, make sure you have a helmet for your passenger. In the last three years, the only motorcycle fatality wreck case that we have handled involved a rider without a helmet. All the other riders we have dealt with survived their injuries.
Get a license. Most states, including Texas, require that bikers get a special motorcycle license endorsement in order to ride on the roads. Usually, riders must pass a knowledge test and a skills test. Some states require bikers to also take a motorcycle rider safety course. The training and education that qualify a rider for a license pay off when it comes to safety. More than 25 percent of all motorcyclists killed in crashes in 2001 did not have a valid motorcycle license endorsement.
Get training. Motorcycle riders who either taught themselves to ride or were taught by friends account for more than 90 percent of bikers involved in motorcycle accidents. Professional rider training could save your life. Approved courses in Texas will also qualify you for the riding skills test to obtain your license.
Don't drink. About half of the accidents involving a single motorcycle involved speeding, alcohol use or a combination of both. It is illegal and extremely dangerous to drink and ride.
Wear protective gear. Protect yourself by wearing a helmet with a face shield, goggles or sunglasses, a jacket, gloves, long pants and boots. Choose bright colors and wear reflective clothing at night so that other motorists can see you. Texas can be hot, but flip-flops and shorts don't provide any protection in a wreck.
Do a pre-ride check. Maintain your motorcycle in excellent running order to promote safety. Don't limit your maintenance to the engine and brakes. Check your tires, brake light, headlight, turn signals, chain and other gear before every ride.
Ride within your limits. Know your limits and ride accordingly. Riding on the road is not the time to show off, test your expertise or overestimate your abilities.
Identify risks. Learn the most common situations that lead to motorcycle accidents and how to avoid them in a rider education course. Head-on collisions between a car and a motorcycle account for 78 percent of multiple-vehicle motorcycle crashes. Motorcyclists are hit from the rear in only 5 percent of multiple-vehicle collisions. Cars making a left turn account for 42 percent of collisions between a car and motorcycle. Approximately 50 percent of single-vehicle motorcycle crashes involve speed, alcohol or both.
Watch out for dangerous conditions. Road hazards such as debris or slick fluids are more dangerous for motorcycles than for cars and can lead to severe injuries. Cross railroad tracks at as large an angle and as close to perpendicular as possible. Learn about road dangers and how to handle your bike to safely avoid those hazards, and regularly practice evasive maneuvers in a safe place such as an empty parking lot.
Although we sincerely hope that you will not need it, you can find additional information under What to Do If You Are Involved in a Motorcycle Wreck in our March 15, 2010, newsletter.